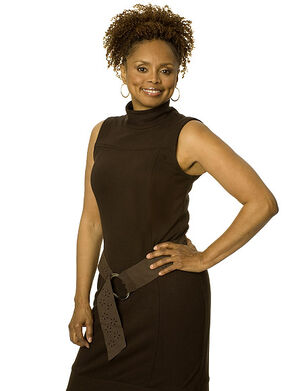 Dr. Angela "Angie" Baxter Hubbard (formerly Harrison & Foster) is a fictional character on the ABC daytime soap operas All My Children, Loving and The City.
Actress History:
Edit
Debbi Morgan (AMC: 1982-1990 & 01/2008-09/2011, Loving: 1993-1995 & The City: 1995-1997)
Sandra Quarterman (AMC: 1990-1991)
Family and relationships:
Edit
Les Baxter (father, deceased)
Patricia "Pat" Baxter (mother)
Sibling(s):
Edit
Theodore "Teddy" Baxter (brother)
Martial status:
Edit
Past marriage(s):
Edit
Jesse Hubbard (divorced; first time) [1983]
Jesse Hubbard (dissolved; second time) [1983-1988]
Charles Harrison (divorced) [1995]
Jacob Foster (divorced) [1996-2007]
Children:
Edit
Grandchildren:
Edit
William [Last name unknown] (grandson, via Frankie)
Other relatives:
Edit
Flora Baxter (paternal aunt)
Flings and relationships:
Edit
Ad blocker interference detected!
Wikia is a free-to-use site that makes money from advertising. We have a modified experience for viewers using ad blockers

Wikia is not accessible if you've made further modifications. Remove the custom ad blocker rule(s) and the page will load as expected.