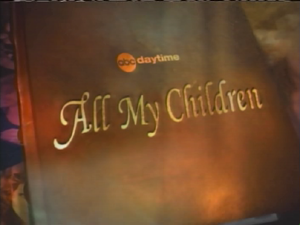 All My Children (AMC) is set in Pine Valley, Pennsylvania, a fictitious suburb of Philadelphia.
Show Information:
Edit
Debut: January 5, 1970
Ended: September 23, 2011
Creator: Agnes Nixon
Producing Team: Julie Hanen Carruthers (Executive Producer), Ginger Smith, Kareri Johnson, Nadine Aronson, Barry Gingold, Joann Busiglio & Enza Dolce
Directing Team: Jill Ackles, Casey Childs, Joe Cotugno, Steven Williford, Conal O'Brien, Angela Tessinari, Barbara M. Simmons, Michael V. Pomarico, Sam Nicholson, Jen Minda & Shelley Curtis
Head Writer(s): Lorraine Broderick
Other Writers: Daran Little, Lorraine Broderick, Chip Hayes, Kate Hall, Christopher Dunn, Lisa Connor, Jeff Beldner, Addie Walsh, Joanna Cohen, Rebecca Taylor, Maureen McKeon, F.C. Boyce & Guy Busick
Casting Directors: Judy Blye Wilson & Robert Lambert
Final Cast (as of September 2011):
Edit
Contract:
Edit
Actor:
Character:
Duration:
Rebecca Buding
Greenlee Smythe Lavery
1999-2005, 2008-2009 & 2009-2011
Daniel Cosgrove
Scott Chandler
1996-1998 & 2010-2011
Bobbie Eakes
Krystal Carey
2003-2011
Trent Garrett
Asher Pike
2010-2011
Stephanie Gatschet
Madison Beardsley
2009-2011
Sarah Glendening
Marissa Tasker
2010-2011
Ricky Paull Golding
Joseph "Jake" Martin Jr.
2008-2011
Natalie Hall
Colby Chandler
2009-2011
Lindsay Hartley
Carolyn "Cara" Castillo
2010-2011
Vincent Irizarry
David Hayward
1997-1998, 1998-2006 & 2008-2011
Thorsten Kaye
Zachary "Zach" Slater
2004-2009, 2010 & 2011
Michael E. Knight
Thaddeus "Tad" Martin
1982-1986, 1988-1990 & 1992-2011
Jill Larson
Opal
1989-2011
Christine Bennett Lind
Bianca Montgomery
2010-2011
Susan Lucci
Erica Kane
1970-2011
Jamie Luner
Liza Colby
2009-2011
J.R. Martinez
Brot Monroe
2008-2011
Cameron Mathison
Ryan Lavery
1998-2002 & 2003-2011
Cady McClain
Dixie Cooney
1988-1996, 1998-2002, 2005-2007,
2008, 2010 & 2011
Alicia Minshew
Kendall Hart Slater
2002-2011
Debbi Morgan
Angela "Angie" Baxter Hubbard
1982-1991 & 2008-2011
Michael Nouri
Caleb Cortlandt
2010-2011
Cornelius Smith Jr.
Franklin "Frankie" Hubbard
2007-2011
Chrishell Stause
Amanda Dillon Martin
2005-2011
Denise Vasi
Randi Morgan Hubbard
2008-2011
Jordi Vilasuso
Griffin Castillo
2010-2011
Darnell Williams
Jesse Hubbard
1981-1988, 1994, 2001, 2002 & 2008-2011
Walt Willey
Jackson "Jack" Montgomery
1987-2011
Jacob Young
Adam "J.R." Chandler Jr.
2003-2011
Recurring:
Edit
Ad blocker interference detected!
Wikia is a free-to-use site that makes money from advertising. We have a modified experience for viewers using ad blockers

Wikia is not accessible if you've made further modifications. Remove the custom ad blocker rule(s) and the page will load as expected.